Raw wastewater (influent) passes through a mechanical bar screen, which removes large objects that are then transferred to a grinder to reduce their size and reintroduce them to the plant flow. The flow enters a grit chamber to remove sand and other inorganic settleable materials that are pumped to the biosolids lagoon for storage and disposal.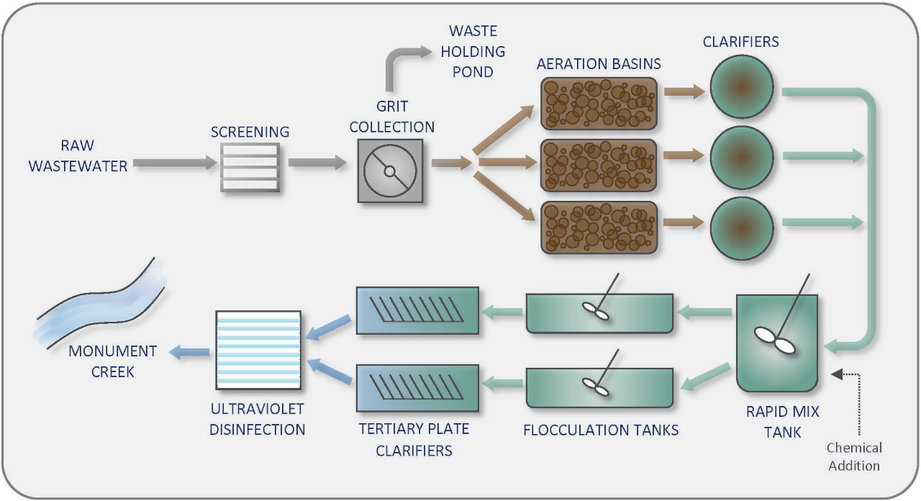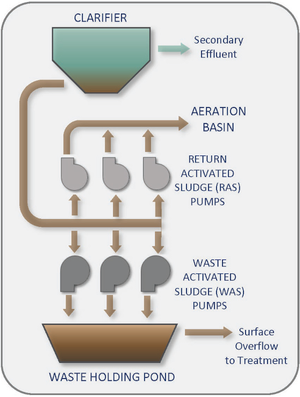 The wastewater then flows into the aeration basins. These basins contain a large and varied population of different microorganisms that consume the organic material in the wastewater, encouraging microorganism reproduction. These microorganisms change their metabolic activity depending upon the oxygen in their environment. Some use ammonia in an aerobic (high-oxygen) environment, while others use nitrate in an anoxic (very lowoxygen) environment. Low-pressure air blowers bubble air into the aeration basins through a series of suspended diffusers supported by floating aeration chains. A valve on each one of these pipes opens and closes in a coordinated manner to allow both aerobic and anoxic conditions to exist in the same basin.

After this, the wastewater flows to the secondary clarifiers where microorganisms settle to the bottom. Most of the settled material (activated sludge) is returned from the clarifiers to the aeration basins by return activated sludge (RAS) pumps; a smaller quantity is pumped by waste activated sludge (WAS) pumps to the waste holding pond where it is further digested and stabilized. A decant facility pumps water from the top of this pond for recycling back through the treatment process.

Secondary effluent leaving the secondary clarifiers is sent into the rapid mix tanks where alum is mixed in for additional phosphorus removal. The alum interacts with fine particulates in two parallel flocculation tanks, forming settleable clumps of solids called flocs. These flocs settle out when the wastewater enters the two tertiary plate clarifiers, removing phosphorus in the process.

The treated wastewater (effluent) now flows through the ultraviolet disinfection facility to deactivate pathogens so it can be safely discharged to Monument Creek once all residual chemical content is removed.
---